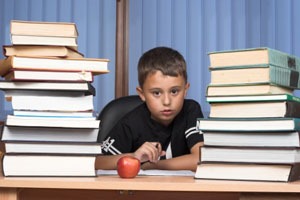 For many children, one of the most exciting times on their odyssey to adulthood is when they reach the lush landscape of 2nd grade grammar. Having sailed past the doldrums of sounding out basic words and identifying letters, they are in sponge mode – absorbing new vocabulary like one of those little dinosaurs you put into a bowl and watch grow. They start throwing new words into conversations, and the increase in communication becomes a full-blown adventure. Being able to give and receive complex directions, to understand contexts for informal and formal language, and to discover how punctuation lends expression to the books they read is what 2nd grade grammar is all about.
Like any journey, there are rough patches, so make sure to keep a positive outlook, and your second grader will grow up to thank you for instilling in him or her a love of literature and language instead of looking back at the second grade with a trembling fist of anger and regret.
Skills Used in 2nd Grade Grammar
While not a comprehensive list, the following skills are examples of the kinds of 2nd grade grammar skills and activities that have been developed by educators (it does not come close to displaying how wonderfully thrilling the 2nd grade is when it comes to language arts):
Using and comprehending basic punctuation: Starting with the question mark and exclamation mark, children can experiment with the changes in meaning punctuation make. Also, given choices of sentences, some correct, some incorrect, they can choose the correct one.
Using vocabulary tools to understand new words: Strategies such as sounding out words; associating with similar words; or beginning to identify parts such as suffixes, prefixes, and roots are important for vocabulary development. A classic example of this game was from the old Electric Company TV show, when two silhouettes would sound out separate words until the words joined into a new one.
Awareness of sentence, paragraph, and story structure: As the level of complexity increases in the books they read, the 2nd grade grammar skill of recognizing the plot of a story and the way the words (such as "once upon a time") signal the beginning of a tale, which needs to somewhat logically be brought to "the end" develops.
Use of abbreviations and contractions: While it may seem natural for an adult, the discovery of how to write and read the language that the youngster speaks gives a facility and new form of expression valuable to a young student.
ED and ING to change words: "Choose the correct word" is a good way to develop this skill. It is also a good way to introduce the child to the variations in the past tense: "I'm walking" and "I walked" are correct, but "I'm swinging" and "I swinged" is not. Turning the many exceptions to this concept into a game is a good way to keep the frustration to a minimum.
Context-based comprehension for homonymic words: Words that operate as both a noun and a verb (such as "swing") are sometimes confusing. One game for this is to give two definitions for the same word, and the child must think of what word is being used. For example, "I'm doing this to the car while it's taking me on it!" could be a clue for the word "drive."
Strategies for identifying and defining new words: Aside from the use of context-based understanding above, by the time a student is working with 2nd grade grammar, they should be able to use many different tools to figure out new words. Structural analysis; picture dictionaries; and recognizing how compound words and affixes change the words are all methods to increase reading and writing comprehension.
Educators like lists. In the hands of bad ones, lists can even make Shakespeare boring, but in the hands of good teachers, a list can be the trade route that thwarts the efforts of pirates and leads bold students to riches beyond their wildest estimations. Please use this skills lists with caution!