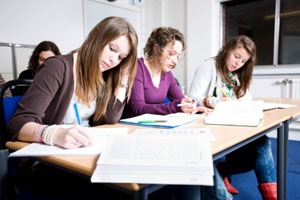 A good English grammar exercise is an important tool in teaching the language. Teachers spend sleepless nights worrying their heads and crumpling papers like mad composers working on their opuses. These Mozart-like workers, this front line in the battle against a society too discourteous to their grammar to communicate, indefatigably forge on until they have the perfect exercises for their classrooms. What do they get for their efforts, you ask; are they the recipients of undying praise and uncountable fortunes? Unfortunately, the returns on their investment of time and sanity is a pittance considering their efforts. Groans from their students and sentences scrawled on wide-ruled notebook paper are the only things they have to look forward to usually. They forget that a well-constructed English grammar exercise is the only guardian of humanity, that it separates human beings from the rest of the animal kingdom as the only creature with a real language.
The Goal
The goal is to create an environment in which a student can learn and remember new grammar rules and conventions. This aspiration means that it assumes a starting point, and no one should know a student's starting point better than his or her teacher. A teacher has to assess what students already know and what they need to know. Once they have that in mind, they can start thinking about what kind of activity is necessary to teach the new material. That idea might seem pretty basic and simple, but the most overlooked item in teacher-created exercises is the foundation.
You wouldn't build a house without a foundation, and everyone has seen the sinking buildings of those unwise enough to try. Why then would anyone fail to consider the foundation of a student's understanding of grammar when trying to build upward? This oversight is the downfall of many a well-wishing teacher or grammarian. The Sisyphean frustration of building anything in sand is something anyone with any inkling of self-worth would aim to avoid. Please, please, please have a very firm grip on what your students already know.
Once you know what your students already grammatically grasp, start thinking about what you want to teach them. It should be the next logical step. If they understand the simple present, for example, the present progressive would be a great next step because it deals with the same time reference: now. If they understand the simple past, the present perfect would be a great step because they both address the past. Grammar teachers aren't lucky enough to have inherited clear names when it comes to the tenses, but if they think about them in relationship to one another, the logical steps will be clear enough.
The two examples above are level jumps, but here are some other steps to think about when creating an English grammar exercise:
Present perfect – past perfect
Simple future – future progressive
Conditional – unreal conditional
Unreal narration – reported speech
Past perfect progressive – present perfect progressive
Coordinating clauses – subordinate clauses
Adjectival clauses – adverbial clauses
By no means a complete list, the above examples show how one type of grammatical structure or tense builds off another. Reversing the order of some of the pairings might prove necessary depending on your student, but the theory is what counts. Build one atop another.
The Best Kind of English Grammar Exercise
A good exercise will not only teach a student something new, but also strengthen what they already know. Comparing new material with old will accomplish both. If your student just got finished learning something like the simple present, don't take for granted that they have it cemented in their brains forever. The only way to inculcate the lesson is to sneak in repetitions of it. Also, if you find that your students are still struggling with the last step, you can give them more practice with it before moving on.
A quick example would be:
1: Jennifer ________ breakfast every day.2: Jennifer________ lunch right now.
Then, when they move onto the simple past, you'd include a few puzzles like the ones above and move onto:
3: Jennifer______ dinner last night.
Upward and onward, sweet grammarians!