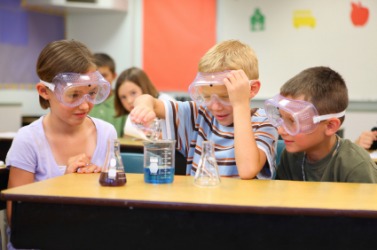 Science vocabulary words for third graders can be practiced with games and activities. If you need some ideas to help your students learn these words, then you are in the right place.
Science Vocabulary Words for Third Graders
The following 20 science vocabulary words for third graders are words that the students need to understand well. First, there is a study sheet for you to give to students, and then there will be some activities for the classroom. Here is the study sheet.
Science Words:
anemometer - An instrument that measures the speed of the wind
atmosphere - The mixture of gases and water vapor that surrounds a astronomical body, like the earth
barometer - An instrument that measures the pressure of the atmosphere
chemical change - A change that forms different kinds of matter
condensation - The process of changing from a gas to a liquid
conduction - Thermal energy moving from one object to another where they touch
chlorophyll - A green chemical in the cells of a plant that allows the plant to make food using the Sun's energy
ecosystem - An isolated group of living and non-living things that interact which each other to ensure each others' survival
evaporation - The process of changing from a liquid to a gas
extinct - When all animals of one species die
force - A push or a pull
greenhouse effect - The heating of the atmosphere caused by shortwave radiation passing through that in turn heats the earth
orbit - The path of an object as it moves around another object in space
photosynthesis - The process of plants making food by using energy in sunlight to change water and carbon dioxide into carbohydrates and oxygen
physical change - A change in matter in which no new kinds of matter are formed
precipitation - Any kind of water particles that falls to the ground, such as snow, rain, hail, or sleet
revolution - One object moving around another object
rotation - The spinning of any object on its axis
solar system - The sun and all the objects that orbit around it
water cycle - The movement of water from Earth's surface into the air and back to the surface again; precipitation, evaporation, and condensation
Activities and Online Resources
Now that you have the definitions for science vocabulary words for third graders, maybe you would like some activities for the classroom. Hangman is always fun to play. You would divide the class into two teams and read the definition. The player would have to give you the word.
Ecosystems are always fun. The class could divide into groups and each group would research an ecosystem and present its findings to the rest of the class. You would need to require some type of visual aid; drawings, shadow boxes, or anything else they can think of.
There are lots of science games to play online. Here are a couple of the better ones:
Uen.org has 14 games related to third grade science, like inventions, force, astronomy, living and non-living things, and simple machines.
You can find a great game, Third Grade Science Jeopardy, at Salem.K12.va. There is a link that gives you all the questions and answers, so you could adapt it for your classroom and add all the definitions on the study sheet. Of course, you could let a couple of kids play online, too. One student could know the host and have all the answers. Here's a sampling of the questions under the Water Cycle category:
100 points: Rain, snow, hail and sleet are all examples of this part of the water cycle (precipitation)
200 points: The origin of energy that drives the water cycle (the sun)
300 points: During evaporation, a puddle of water becomes this (water vapor)
400 points: When warm moist air meets cooler air, this part of the water cycle takes place to form a cloud (condensation)
500 points: A natural or manmade lake used for the storage of water (reservoir)
Double Jeopardy - Food Chain category - 1000 points: An animal that eats both plants and animals (omnivore)