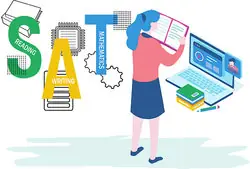 Are you looking to kickstart your future? Go ahead. Start dreaming of that dorm room worthy of a Pinterest pin and that club on campus filled with all your new best friends. But, before you open your mind to a world of enlightenment, it's important to consider the best ways to prepare for the SAT.
Realistically, the best way is to devote several hours of your life to studying now so you can enjoy several years of success in college. Let's roll up our sleeves and look at some key test preparation strategies.
If you're in the early stages of your SAT test prep, let's talk about the basics. The SAT gauges your ability to do well in three core areas:
Reading: The reading portion is allotted 65 minutes, consisting of 52 questions.
Math: The math section contains a 25-minute section with 20 questions where no calculators are allowed, and a 55-minute section with 38 questions where calculators are permitted.
Writing: The writing section includes 44 questions over the course of 35 minutes.
Optional SAT Essay Component
There's also an optional essay. This is a 50-minute exercise that asks you to read a passage and then dissect the writer's ability to formulate an argument. You don't have to complete the essay, since they made it optional a few years ago, but some universities require it. So, be sure to see how "optional" the essay is, depending on where you'd like to apply.
If you decide to go for it, here's the low-down on how to write an essay.
As for timing, you can take the SAT as early as your junior year or you can wait until your senior year. However, waiting isn't advisable in case you want to retake it a couple of times.
In fact, planning to take the SAT reasoning test at least twice is a smart approach. Even if you're really happy with your initial score, chances are you could score even higher on the second round.
To plan your attack, check out these tips for scoring high on the all-important writing section.
Reading and Writing Practice
Clearly, the English language takes precedence in the SAT. There are two sections dedicated to this broad topic and one devoted to math. So, let's make a plan of attack for the language skills portions.
A strong command of the English language also means being familiar with a broad range of words. The SAT contains straight multiple-choice questions on tough vocabulary words. If you've been an avid reader all your life, there's a good chance your vocabulary bank is quite large. Even if you haven't spent years with your nose in a book, there's plenty of time to beef up your vocabulary skills.
Here's what it all boils down to: for a test that has the power to change your college selection process, it's important to begin test prep very early on. Trying to cram for a multi-part, several-hour exam is never going to work.
To help you get motivated, here are ten of the best ways to study. They can be applied to tomorrow's history exam as well as to prepare for the SAT. And, remember, this is just one season of your life. Give it your all and rest is yet to come.