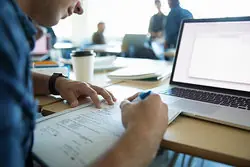 To succeed in college you'll need good reading and comprehension skills. That's what the Reading part of the SAT tests. In the SAT Reading Test you'll get five passages, including data and charts, to read. Each passage is followed by 10 or 11 questions, creating a total of 52 questions. You'll have to move fairly quickly through each passage and set of questions because the Reading Test is timed. You get 65 minutes to complete it.
As you can see, this section of the SAT is fairly straightforward. You don't need to memorize facts and figures. But, here's the secret to acing SAT Reading: you need to practice, practice, practice. The more practice tests you take, the more likely you are to boost your SAT reading score. Below you'll find some typical test questions, tips on preparing and the best sites for high-quality practice tests.
The reading test requires you to answer a series of questions about various passages. You won't be asked to write an essay; rather, you'll be asked to assess a piece of writing and answer multiple-choice questions.
Here's a sampling of some of the types of questions you'll be asked:
What is the main focus of the narrative?
What idea is this phrase trying to convey?
What does the main character value most?
What evidence supports your answer to the previous question?
What is the author trying to convey with this description?
In line 62, what does the word "intense" mostly mean?
Which claim is supported by the graph?
So, you're being assessed on your ability to not only read but interpret information. Topics will range from the central theme to observations about the characters and their decisions, to context clues, and more. While there's a small focus on vocabulary words, the primary focus is how well you can pull information out of a passage and analyze it.
When you're ready to start practicing for the writing portion, here are some tips on preparing for the SAT writing and language.
Practice makes perfect: The best SAT reading tip won't come as a surprise. You must take a slew of practice tests. It's not that these tests will contain the answers to the passages that'll be on your test. It's that each practice test will make you more comfortable with this style of test-taking.
Find your weakness: Taking practice tests will help you identify your weak spots, maybe it's data interpretation or vocabulary in context. Once you know where you're making the most mistakes you can focus on those areas in your studies.
Learn to pace yourself: There's a lot to do in just 65 minutes, so you may find yourself rushing through the passages, missing details and making careless mistakes. Start off with taking untimed tests to get familiar with the style and format of the test. Once you've done that, move on to a timed test. If you miss more questions at the end than the beginning you haven't paced yourself.
Here's more on the 10 Best Ways to Study. They'll prepare you for everything from next week's science test to next weekend's SATs.
PrepScholar offers a wealth of knowledge for SAT prep. They prepared a thorough article containing 11 tips to help you ace the reading portion of the test. Here are some of their top tips:
Eliminate the wrong answers first.
If you can't answer a question within 30 seconds, skip it.
Find the strategy that works best for you. Will you read the passage in its entirety and then answer the questions? Will you read the questions first and then the passage? Or, will you skim the paragraph and questions, then keep your eyes peeled for the information you need to pull out?
You must move through each passage without delay and answer each question confidently. Enroll in an after school test prep course. Or, you can get your SAT reading comprehension practice online. There are a wealth of reputable sites that offer current practice tests. Below, you'll find our top picks for the best practice tests.
The folks over at PrepScholar really know how to help students prepare for the SAT. They've curated a list of the best SAT Reading practice tests and questions. There, you'll find a set of printables that accurately reflect the material currently covered on the SAT.
If you're looking for the motherload of SAT practice tests, check out The College Board. They have what's known as the "Suite of Assessments." There, you'll find every manner of test prep for the reading portion of the SAT. Ready for the best part? They provide immediate feedback on your test answers.
If you still need more practice after The College Board, try Khan Academy. They've actually partnered with The College Board, so they're as official as it gets. Their arsenal of practice tests isn't quite as extensive as The College Board, but if you're looking to change things up, Khan Academy is worth a gander.
You have it within you to ace the SAT Reading test. The more time, effort, and practice you devote to it, the more you increase your likelihood of scoring high. Think of it this way; the SATs are a tiny blip on the radar. Carving out the time to practice for the test that will determine if you go to your top college pick or your third is worth it in the long run.
In our article, Best Ways to Prepare for the SATs, you'll find helpful advice on all aspects of the test in an effort to help you realize all your dreams.