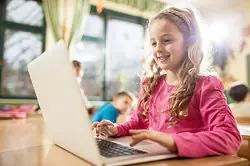 Teaching Resources and Activities for Sight Words for 1st Grade
Learning how to read is a complex process that requires a great deal of time and effort. Children must learn how to recognize and name letters of the alphabet, connect sounds to letters, and develop the comprehension skills necessary to understand what is being read. The best way to develop strong reading skills is through regular practice and the use of instructional aids such as first grade word lists.
The best list of sight words for 1st grade children is the Dolch list. A certain number of these words are introduced each year up until the third grade. These are the 220 words that the students need to learn by sight, not only by looking at the letters, but by the configuration of the word. They are the 220 words that frequently show up in written text.
Dolch sight words were first identified by Dr. Edward William Dolch during the 1950s. As the foundation of the English language, these words are essential for reading mastery. Since many of the words can not be simply sounded out, knowing how to recognize the words by sight alone is a critical skill for the beginning reader.
The Dolch sight words for 1st grade children are:
after, again, an, any, ask, as, by, could, every, fly, from, give, going, had, has, her, him, his, how, just, know, let, live, may, of, old, once, open, over, put, round, some, stop, take, thank, them, then, think, walk, were, when
Online Resources for Dolch Sight Word Activities
Interactive Games for Sight Words
MRCPL.org has some really good Dolch sight word games. In every game, the word is pronounced when the mouse passes over it. The matching games are good for children's concentration skills as well as learning the sight words. There are stories with the sight words highlighted. One really creative game is called Frig Magnet Poetry in which the player makes poems, sentences, and stories. This would be good for more advanced students. Some games have a sentence where a sight word has to be inserted.
Gamequarium has many different kinds of games. Star Words helps the player identify a word by its configuration, or shape. Make a Match is a Concentration-type game and Color Word Memory uses the color words. Missing Letters help with spelling the sight words and Spellbound displays a word for a short time, then the player has to type it. Finally, tvo kids has several different types of word games.
Family Learning.org.uk has a really cute game called Dinosaur Eggs, where the player clicks on the egg that has the word that he hears. There are also Dolch word games and high frequency word games where you either match the sound of the word to the written one, or drag the correct word to complete a sentence. Roy the Zebra is cute because you have to help the zebra get ready for bed by matching color words.
Although Dolch sight words remain a standard for measuring first grade reading ability, there are many other word lists available to help students develop strong literacy skills. Most lists have been prepared by professional educators based on their previous teaching experience and an analysis of the words most commonly used in children's literature.
For additional first grade word lists, check out the following helpful links
Additional First Grade Reading Resources
US Department of Education website has a listing of first grade reading lessons covering topics such as recognizing the different parts of a book, putting sounds together, identifying sentences, sounding out unfamiliar words, and improving reading comprehension. This site is a valuable resource for homeschooling families, as well as parents who are in search of a way to provide extra help to children having difficulty with their school reading lessons.
Hedgehog Books lists fun books to help your child practice his/her reading skills, with all titles geared towards a first grade reading level. Encourage a lifelong love of reading by surprising your child with an assortment of new books to enjoy!
Tips for Teaching Reading
Although research has proven that children with strong literacy skills typically outperform their peers in junior high, high school, and college, there are currently over seven million elementary school students reading below grade level. By reading to your child often and helping him/her to practice skills learned in school, however, you can help to reverse this disturbing trend.
For tips on helping a child develop strong literacy skills, check out the following helpful links:
The key is to find the best combination of activities, resources and practice tools to engage the child's attention and increase his or her practice of the words for their grade level.