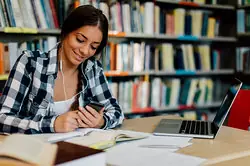 The Graduate Record Exam (GRE) is a standard entrance exam required for anyone seeking admission to a graduate course. The GRE is required regardless of the field you are interested in going to graduate school for, and your scores on the test can be determinative when it comes to both admission and financial aid.
The test is conducted by Educational Testing Service (ETS), and is administered on computers in testing centers throughout the United States and the rest of the world. GRE scores are standard - you are given both a numerical score and a percentile rank. The weight that different institutions place on these scores varies from school to school. In some institutions, a healthy GRE score is often the most important selection benchmark, while in others, it is just a formality. Still, you want to succeed on the test regardless of your school's emphasis upon it; so, here are some helpful links to help you practice.
The GRE tests your ability in three important areas:
Logical reasoning
Math
Vocabulary
The test is an objective, multiple choice computer-generated test. Scores for the verbal and quantitative sections of the test are based on a computer-adaptive testing method. This means:
The level of difficulty goes up if you get a question correct.
You cannot skip questions.
You cannot go back to a previous question and recheck your answers.
The highest possible score on each section of the test is 800, while the lowest possible score is 200.