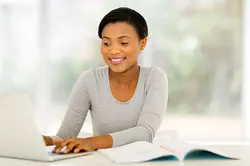 The GRE, or Graduate Record Exam, is a pre-requisite for graduate school applicants. GRE scores measure your abilities as a student and reflect your educational background. Although it is not necessarily a valid gauge to determine your academic success in graduate school, the GRE is still an important assessment tool to evaluate your analytical and quantitative skills, verbal communication skills and vocabulary.
Improving your vocabulary is one of the easiest ways to improve your GRE score. The GRE tests vocabulary on several components of the verbal section:
Your sentence completion scores will be improved if you know the vocabulary words being tested.
Your antonyms and analogies are much easier to complete if you know the words used in the questions and answer choices.
While it is not possible to learn every word in the English language (although that might be a fun challenge for the very ambitious!) certain words tend to appear over and over on the GRE.
If you study some of these GRE vocabulary word lists and learn these oft-used words, you'll have a leg up on the competition when it comes time to take the test.
GRE Vocabulary Review Sites
Test Prep Review - This site offers a list of high frequency vocabulary words found on exams such as the GRE. The website also offers you advice on creating a study schedule that will help you memorize the words and their definitions, and hopefully excel on your exam. Examples of words found on this site include:
aberrant - Markedly different from an accepted norm.
aberration - Deviation from a right, customary, or prescribed course.
abet - To aid, promote, or encourage the commission of (an offense).
FreeVocabulary - This site offers 5000 alphabetically arranged collegiate words with brief definitions. Words were originally created for SAT vocabulary study; but, they also provide an excellent base for GRE vocabulary study. Examples of words include: