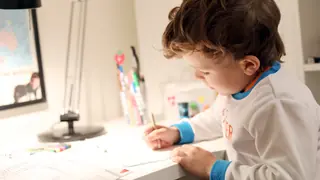 Reading comprehension worksheets for kindergarten use simple text and stories to teach students basic reading comprehension skills. Choose the worksheet you want to try, then download and print it by clicking on the image of the worksheet. Each worksheet comes with an answer key. Check out the helpful troubleshooting guide to use the PDFs.
Reading Simple Sentences Worksheet for Kindergarten
At the beginning of kindergarten, when students are learning to read, you can use a simple sentences comprehension worksheet. Students are asked to read five independent sentences about different types of vehicles. They will then circle one of two illustrated answers to identify which vehicle the sentence was about.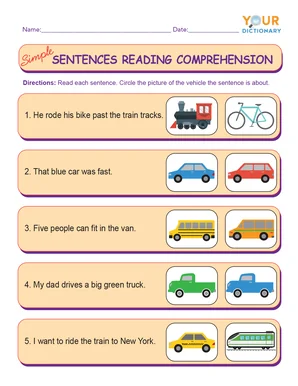 Sequence of Events Reading Comprehension Worksheet
Understanding the order of events, or plot, of a short story is an essential part of reading comprehension. On this worksheet, students will read a short passage about a tree. Then, they have to number three images in the order they happened in the story.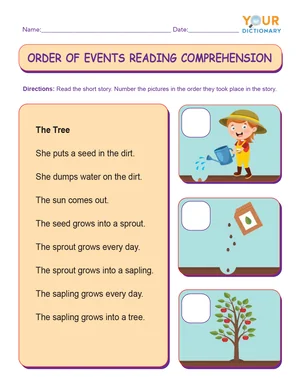 Color the Answer Reading Comprehension Worksheet
As kids progress toward the middle of the school year, they can start to recall more specific information about the text they read. This worksheet asks kids to read a short story about birds and circle the correct illustrated answer for three questions about the text.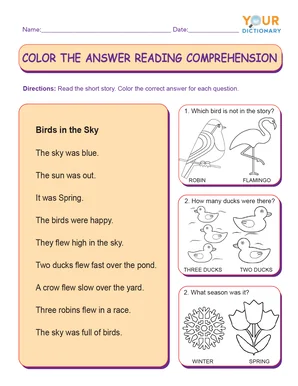 Write the Answer Reading Comprehension Assessment
Toward the end of the year when kids get better at writing and reading, they can answer questions about a text by writing the answer. This worksheet features a short story about kids rolling down a hill. Students have to write the answers to three questions about the text.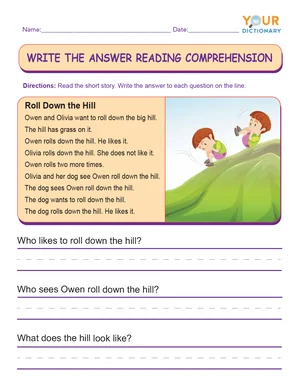 Where to Find Free Reading Comprehension Worksheets
You can find tons of reading comprehension worksheets online that are free to use or print.
On the K5 Learning website, you can find about 12 different worksheets that focus on sequencing as part of reading comprehension.
While Have Fun Teaching offers low-cost educational worksheets, they also have a few free kindergarten reading comprehension worksheets.
At Itsy Bitsy Fun, you'll find a set of eight worksheets that mostly involve kids coloring a picture according to the sentences they read.
Tips for Using Reading Comprehension Worksheets
Kindergarten reading comprehension worksheets should be only one part of your reading lessons. The worksheets will be most useful and effective when you follow a few basic tips.
Look for stories that mostly use basic sight words for kindergarten.
Ask students to read the passage out loud for fluency.
Use the worksheets as kindergarten reading comprehension assessments.
Use the worksheets to teach reading comprehension basics in preschool.
Turn the worksheets into assessments by having students fold their paper after they read the passage. This way they don't see the passage as they're answering the questions.
Kindergarten reading comprehension worksheets and assessments help kids move beyond reading words and learn to remember what they read. Most kindergarten reading worksheets use Dolch sight words in phrases kids can easily read and understand. For students who are struggling with reading and writing, go back to the basics with letter tracing worksheets. If you've got advanced students, try out some 1st grade reading comprehension worksheets to challenge them.