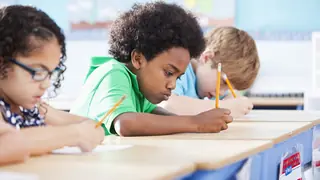 Students in first grade have learned the basics of reading and are starting to read well on their own. It's important for teachers to ensure students also understand what they're reading, so they use reading comprehension tests and worksheets. Use these reading comprehension worksheets for lessons, practice, or tests.
Printable 1st Grade Reading Comprehension Worksheets
Reading comprehension worksheets for 1st grade feature a short passage and questions about that passage. Click on the image of the worksheet PDF with answer key to download and print it using the troubleshooting guide for help.
1st Grade Reading Comprehension Multiple Choice Worksheet
Toward the beginning of the school year, first graders will need more guidance with understanding reading comprehension. This reading comprehension worksheet includes five multiple choice questions, making it easier for students to identify the answers.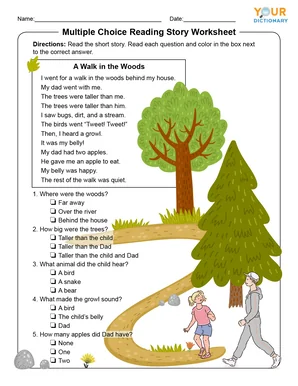 Reading Comprehension Worksheet for Grade 1 With Questions
Practice 1st grade reading comprehension with questions on this blank first grade reading story worksheet. You can use the worksheet for lessons as a group with any first grade read-aloud book or for independent reading with any book the student chooses.
1st Grade Reading Comprehension Test
This 1st grade reading comprehension practice test includes multiple choice, true or false, and open-ended questions to gauge the student's understanding of the text.
Where to Find 1st Grade Reading Comprehension Tests
Many educational websites offer free online reading comprehension stories for kids. At the first grade level, you can use worksheets as reading comprehension examinations too. To make them feel a bit more "test" like, combine a few to make a longer exam or cross out questions if you feel like there are too many.
There are two reading comprehension tests first graders can take online from Pearson, "Saturday with Grandpa" and "How They Grow." Kids will answer three questions about each story online.
K5 Learning offers 6 free printable leveled reader reading comprehension worksheets you can use as tests.
If you want Common Core aligned tests, K12 Reader has over 35 free reading comprehension worksheets for first grade that use rhyming words and focus on single word families.
Make Your Own Reading Comprehension Tests
Ready-made worksheets and tests are not always going to suit the unique needs of your first grade classroom. Use these tips and techniques to create your own reading comprehension tests and worksheets when needed.
Create a Theme for the Test
As you can see from the free worksheets and tests, having a strong central focus for the sheet is common. Kids respond well to animals, holidays, and other subjects that connect to their own lives.
Prepare Students for the Test
There is a strong chance that first grade students have never taken a test before, and they might be overwhelmed by the thought of having to do so. Go through several reading comprehension worksheets in class with them, so that they know exactly what to expect.
Mix Up the Type of Questions
Use different types of questions on the test such as multiple choice, true and false, and open-ended. They should not all be summary questions that ask the student to regurgitate the facts.
You can ask questions that focus on a very basic analysis or ones that ask the students to make inferences about the subject matter.
Include Some Illustrations on the Test
Images and pictures can give students some basic clues about the answers to the questions or they might simply be for fun, decorative purposes. Either way, they make the test less intimidating.
Know the Needs and Abilities of Your Students
As with any type of activity, lesson, or examination in the classroom, you need to evaluate the specific needs of your students when using worksheets and tests.
For example, if you teach two first grade classes, and one is much more advanced than the other, consider coming up with two different tests so that both groups of students are challenged within their abilities.
Reading comprehension worksheets and tests are only two of the tools you can use to help first graders master reading comprehension. Check out these fun reading activities and see which ones you could tailor to first grade reading comprehension lessons.