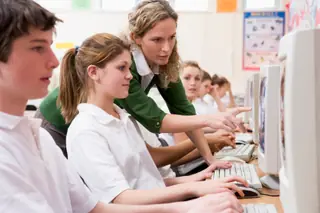 Sample lesson plans for 7th grade computer terms are extremely useful. Even though by the time they reach 7th grade, most students have already had experiences with computers either at home or at school, that does not necessarily mean that they know what they are doing. Even more importantly, perhaps, is that many students work on computers on a daily basis, yet they have no idea what the names of the actions are that they are doing. Maybe that does not seem like a big deal; however, it does indicate that youngsters are learning to move away from reality, and more into a virtual realm.
Sample Lesson Plans for 7th Grade Computer Terms
What follows is a list of sample lesson plans for 7th grade computer terms:
All of the lessons described above involve interactive activities. Not only do the students learn about the terms, but they also engage in a project that requires the knowledge of those terms.
Lead students through the terminology, but make sure they are taking notes. When it comes time for the final project, be there to offer assistance and guidance. However, ultimately, they will have to come to understand the terms in order to be able to create the assignment.