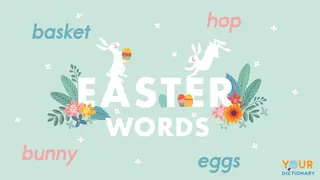 A list of Easter words is a great tool to use when you're teaching children about Easter. From learning terminology specific to Easter to completing educational activities or fun games based on Easter words, there are plenty of ways to incorporate Easter terms into seasonal learning for fun and education.
Alphabetical List of Fun Easter Words for Kids
Are you putting together a list of Easter words or looking for terms relevant to the holiday to include in activities? Use fun words specific to Easter, like the ones listed below, along with a selection of spring words, since that's when Easter takes place.
basket
bonnet
bouquet
bunny
candy
carrots

celebration
chicks
chocolate

cottontail
dye

eggs
hop
lamb
marshmallow Peeps
Religious Easter Words and Phrases for Kids
If you want to present Easter from a religious perspective, use this list of religious Easter words. You can use these words as Easter vocabulary words, spelling words or create your own Easter word games.
apostles
ashes
Ash Wednesday
cross
crucifixion

fasting
holy
Easter Vigil
Lent

Jesus
Maundy Thursday
palm fronds
Palm Sunday
Paschal candle
Passover

resurrection
risen
sacrifice
salvation
Printable List of Easter Words and Phrases
For more terminology specific to Easter, download the printable list of Easter words. It includes an expanded version of the lists above in colorful format kids will love. The list is organized by words and phrases, with both religious Easter words and secular Easter words.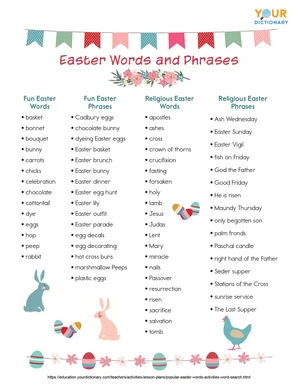 Easter Art Project Activity
Use Easter words as part of a fun activity for kids in the classroom or at home. It is ideal for preschoolers and early elementary students. Use the word list above to select a few Easter words for your project. Use the kids' artwork to decorate the classroom or other space where the activity is being done.
Write one Easter word in large lettering in the middle or at the top of a piece of paper. Continue until there are enough pages for each student to have one.
Explain to students that their task is to illustrate the word on their page, with each child's work to be used to bring the Easter spirit into the room.
Provide a selection of age-appropriate art supplies, such as crayons, markers, watercolors, colored pencils, stickers, and/or other items.
Allow ample time for students to complete their art projects.
To help reinforce the concepts, call on students one at a time to show their work and explain how their design explains the word.
Encourage students to ask each other questions and engage in dialogue.
After each student finishes, collect their decorated page and tape or pin it to the wall or a bulletin board.
If you want to gamify this activity, you can have students vote on winning designs in a variety of categories, such as best in show, most creative, most unique, brightest, or other categories.
Easter Vocabulary Building Activity
Help students build a strong vocabulary of popular Easter words by assigning them to use the printable word list to create their own flashcards for select words. This activity is ideal for first or second-graders.
Print a copy of the above list of Easter words and phrases for each student.
Let the students know that their next vocabulary quiz will cover a selection of words and phrases.

Have the students mark the specific words and/or phrases that will be on the quiz.
Provide students with index cards they can use to create flashcards to help study for the quiz.
Have them copy the words they need to study from the printable to the flashcards, putting one word on each flashcard.
Lead a discussion with students on what each of the flashcards terms means, writing the agreed-upon definition of the word on the board.
Have students copy the definition onto the back of the corresponding flashcard.
Divide students into pairs so they can quiz each other on the terms using the flashcards.
Allow more time for students to review the flashcards in class the next day.
Schedule a quiz the following day.
If you want to gamify this, you could host an in-class quiz bowl activity rather than a traditional quiz.
This activity includes elements that appeal to multiple learning styles. For example, the colorful printable appeals to visual learnings, the discussion appeals to auditory learners and making their own flashcards appeals to auditory learners. Working in pairs appeals to those who like to learn collaboratively while allowing time for independent study outside of class appeals to those who prefer independent work.
Create Your Own Easter Puns
Encourage second and third graders to stretch their language arts skills to create their own funny puns using words from printable list of Easter terms.
Provide each student with a copy of the printable word list.
Pick a few words and show how a fun play on words can be used to create a cute and funny pun. Give some examples from this list of fun Easter puns.
Divide the students into pairs or teams.
Assign each team a particular word from the list, then give them 10 minutes to come up with as many Easter puns for it as they can think of.
Lead a class discussion so students can share their ideas.
This game is sure to be fun and engaging. Students will learn to think creatively about language while learning about funs and finding new ways to use Easter terms.
Use these basic charades instructions with a few special tweaks to make a version specific to Easter.
Choose words or phrases from the printable list as the concepts for players to act out.
Print the terms on strips of paper, with one word or phrase per strip.
Put them in plastic Easter eggs, then have players draw an egg out of the basket to find out what they'll be acting out.
As an alternative to acting out the words, you could opt for a game of Pictionary instead of charades.
This word search game provides a fun activity for students in second through fourth grade. The printable Easter game is a standard find-a-word game, complete with a word bank so kids know which secular and non-secular Easter-themed words are hidden in the game for them to find. It also comes with an answer key, so you'll have an easy way to provide assistance to kids who may need a bit of help finding some of the words.