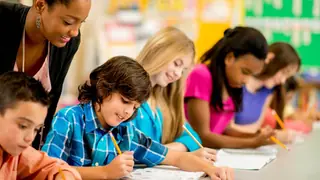 Teachers are always learning new ways to start using reflective writing in the classroom. Writing reflective essays or journal entries taps a skill set that often goes untested by standardized exams and other kinds of writing assignments. Reflective writing lesson plans and activities are powerful tools for building writing skills.
Ideas for Reflective Writing in the Lesson Plan
Allow students the creative space that they need with a special notebook for their journaling needs. A basic lined notebook will be perfect, especially if you let them decorate the cover. By decorating the cover and personalizing the notebook, students will start to feel a personal connection to it as you teach them about reflective writing. They'll begin to feel proud of their writing and the thoughts they share.
Daily Entries: Build a Reflective Writing Habit
Try having kids write one entry a day as homework outside of the classroom. While in the classroom, encourage kids to edit their writing they did for homework and to share their writing with others. By peer-reviewing each other's reflective writing work, they will begin to learn a lot more about different writing styles. This can help reinforce grammar rules, build vocabulary and enhance writing skills.
Down-Time: Reflect After Intensive Activity
Consider using reflective writing as a transitional activity to help students "cool down" after an intensive group activity. Encourage students to reflect on the activity or experience and write about it before transitioning to another activity. Ask them to summarize what they accomplished or learned and to describe their reactions to the activity.
Writing About Reading: Next-Level Comprehension
Kids show that they understand what they've read when they can write about it. Instead of assigning summary writing all the time, mix it up and ask students to write reflectively about a book and how they reacted to it. Ask them a string of questions to illustrate how to write reflectively about something they have read.
How did the ending of the story make you feel?
Can you relate to the characters in the story?
Who was your favorite character? Why?
Describe your favorite chapter, and share why it was so important to you.
Once students learn that they can have an opinion about a book, beyond a summary of the book, students will want to have more class discussions to share their opinions and feelings with their peers. They will grow as readers, writers and speakers by journaling about books they have read.
Linking Lessons: Reflecting on New Learning
Reflective writing doesn't have to be limited to writing about books that students are reading for English class. Students need to be able to write about a variety of topics, so plan a reflective writing activity related to what they're learning in other classes.
What have you learned in science this year that you wish you knew sooner? Why?
Now that you have studied oceans, which aspects interest you the most? Why?
Now that you've learned the continents, which would you most like to visit. Why?
What are your thoughts on why physical education is part of the curriculum?
Personal Growth: Personal Reflection Journal Entries
Periodically ask students to check in with themselves and their feelings and write a journal entry about where they feel they are as individuals. Sometimes writing causes students to get in touch with themselves and understand themselves better. In a few months, ask students to look back at previous assignments to assess how far along they have come over a period of time.
Key Benefits of Reflective Writing for Kids
Reflective writing can benefit learners in many ways, both academically and personally. Students who engage in regular reflective writing can:
begin to write more clearly and more fluently
think more critically about their world
build a strong sense of self through reflection and who they are
learn and use new vocabulary words
become stronger writers
improve descriptive writing skills
become more confident in their writing
build stronger communication skills
Preparing the Next Generation of Writers
Reflective writing can provide a powerful way to enhance the learning experience for students. By incorporating reflective writing into your lesson plans in a variety of ways, you'll have an opportunity to open students' eyes to the joy and power of writing and prepare them for success throughout school and into adulthood. Once you use some of the strategies presented here, you may want to assign students to write a reflective essay related to current events, as a way of pairing a civics lesson with the skills they have developed so far.